POLYISOCYANURATE (PIR) – NEW MATERIAL FOR INSULATION
Polyisocyanurate Foam (PIR) is a thermoset resin used for heat and cold insulation in industry, the material is manufactured in a form of tubes and plates. PIR was developed to replace PUR & other traditional insulating materials. Because of its superior physical and environmental properties, PIR is the best choice for food and chemical industries to insulate piping systems and high temperature equipment.
History of foundation and development
In 1968, Haggis from I.C.I in the UK developed a commercially available form of PIR foam with the trade mark Hexafoam.The same PIR foam was commercialized in the United States by Upjohn Company in 1969 with Trade mark KODE 25 and by the company: Celotex Corp with the trade mark Thermax.
Polyisocyanurate foam modified by urethane was first commercialized in 1996. Since then, the modified PIR foam from urethane has been used extensively in the construction industry throughout the world.
In recent years, denatured isocyanurate is increasingly rated for its fire resistance due to its thermal stability bonds such as amide, imide, and carbodiimide linkage. These foam exhibit higher thermal stability and better fire resistance than polyurethane foam (PUR).

Forms and applications of PIR in the manufacture of insulating and heat-resistant materials
Comparing the structure and properties of polyisocyanurate (PIR) and polyurethane (PUR)
Polyurethane (PUR) is a heat-insulating compound used in industrial and thermal insulation and is widely used in Vietnam and in the world.
On the chemical structure, PUR urethane bonds have an unstable hydrogen atom and it decomposes at a relatively low temperature. In contrast, the isocyanurate bonds in PIR does not contain unstable hydrogen atoms. This is the reason for the high thermal stability of polyisocyanurate foam (PIR).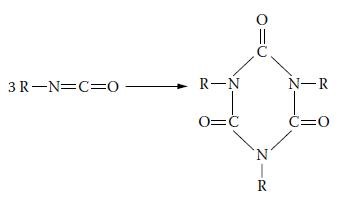 Chemical structure of Polyisocyanurate (PIR)

In physical properties and fire resistance, PIR is better than PUR especially in cold insulation and slower fire performance. PIR can be used in the heat demand of pipes and tanks at temperatures of -196°C to 150°C, which also provide the best effective and stable thermal insulation for nitrogen liquid (LN). , Liquefied natural gas (LNG, -162°C), ethylene liquid (LEG, -104°C).
PIR foam are particularly suited to the requirements of extreme heat conditions such as mixing tanks, beer tanks (using PIR), due to its durability and good fire resistance. The cold storage panel, clean room if using PIR, the efficiency and standard will also be higher than PUR.
On the environmental side, in the process of PUR fabrication, a small amount of binders is added to make PUR foam more dense and matt. In the early 1990s, due to their impact on ozone depletion, the Montreal Protocol limited the use of chlorine-containing binder such as trichlorofluoromethane (CFC-11). However, the use of chlorinated binders during PUR production has so far been widely used in developing countries.
Polyisocyanurate (PIR) is a new generation of thermoplastic elastomers, using halogen-free tetrafluoroethanes (HFC-134a), pentafluoropropane (HFC-245f) as hazardous materials during manufacture and use for the environment.
APPLICATION OF PIR IN MANUFACTURING OF INSULATION IN VIETNAM
In Vietnam, PIR (in form) is widely used in application of insulation materials for construction. However, the application of PIR as insulation material for tanks, fermentation tanks for breweries, wine has never used before. Currently, manufacturers in this sector are still using PUR as its more common, easier to manufacture, product than PIR. Due to traditional, technological and some other factors, the number of manufacturer using PIR insulation in the world is limited.
Understanding the above factors, ERESSON Vietnam Co., Ltd has started to research, manufacture and test PIR compounds, applied in the fire-retardant coating process for ERESSON's equipment.
The PIR insulated by ERESSON meets the standards EN13501-1 Class C, S3, D0, stable performance, insulation in the temperature range -196
O
C à150
O
C. The PIR insulation and coating technology has been completely mastered by ERESSON engineers. Therefore, the process of production and construction is fast, safe and does not increase the cost of the project. In Vietnam now, ERESSON is the only company that successfully manufactures and applies PIR as a fire resistance for fermentation tanks and other tanks….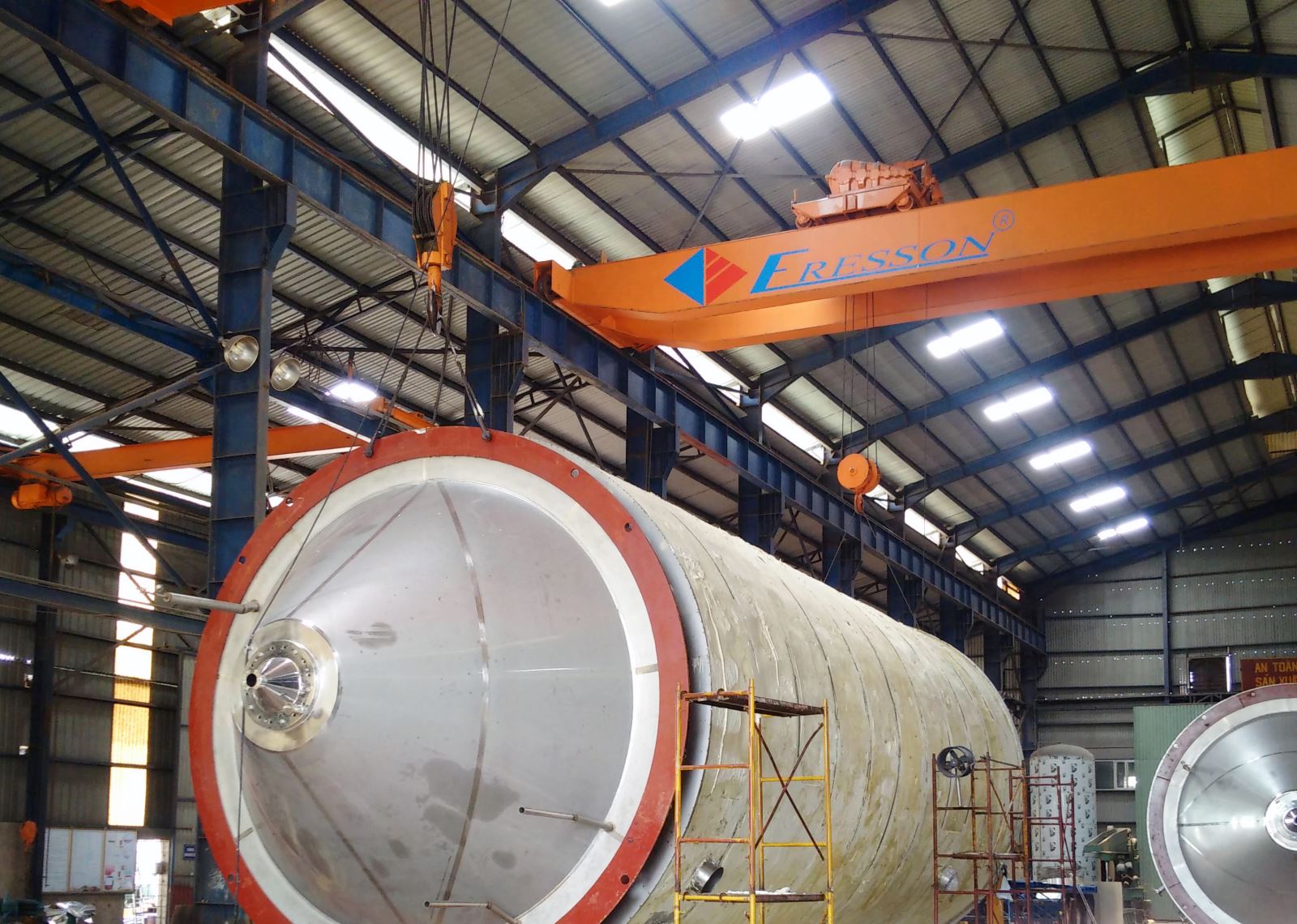 Insulation with material PIR at ERESSON workshop

PIR insulation has been applied in the production of tanks and fermentation tanks for ERESSON's recent projects such as: upgrading the capacity of project for HEINEKEN VUNG TAU 1 - 2018, Suoi Tien water plant project implemented by Krones - Eresson.
Insulation with PIR material at Heineken's site

During the project has shown that PIR can completely replace PUR as an insulating compound for equipment. The process of fabrication and installation of equipment on the site quickly and safely, friendly to the environment. Meet the rigorous standards of insulation and fire resistance of equipment.
Upgrading the capacity of HEINEKEN Vung Tau factory in the 1st period- 2018

The successful implementation of the project is an important premise for us to continue to improve the production process, bravely apply new technologies and materials to the next ERESSON products and projects, in accordance with the guideline
"Technology Pioneers- Sustainable Value"
!
Editor: Project Engineering Department
Purchasing Department
IT Department